CLAE PERSPECTIVES: TERRY GUY
This edition of Perspectives we're talking to Terry Guy, the founder of Secret Walls, a live art competition that began in London in 2006 and has since become a must-see event in cities all over the world. As everyone has seen, the art world continues to evolve at a rapid pace, especially in the last few years with the growing popularity of NFTs and the use of artificial intelligence. As someone who's been right in the epicenter of it all, we asked Terry about his take on the current art scene, his favorite artists, and where the art world is going next.
For those who aren't familiar, tells us about Secret Walls and what exactly goes into a battle?
Founded 17 years ago on the streets of East London, Secret Walls is a global art event series that pits artists against each other in a live paint battle, where they have 90 minutes to create a black and white mural using only black markers on a white wall. The battle takes place in front of a live audience, who votes for the winner using a decibel meter. It's a high-energy event that brings together art and entertainment, and it's a platform for emerging and established artists to showcase their skills.
Digital artists have always been part of the conversation in your work, how do you feel about where we are today with NFTs and do you think AI has any place in the art world?
Web3 and blockchain technology (NFTs) have opened up a new frontier in the art world, and it's exciting to see how they're changing the way we think about art ownership and value. As for AI, I believe there's definitely a place for it in the art world, as it can help artists explore new forms of expression and push the boundaries of creativity + save us our most valuable assets…time. Super excited for 2023 and what evolves in this space as it is all moving so fast andwe are ready to embrace these new tech super powers.
We also acknowledge that some artists and creatives are worried about their jobs, and we will be hosting live conversations here at our LA HQ over the coming months to discuss and explore these hot topics.
Fun one but I just made this inspiring quote in AI in 2 seconds!
"Let your creativity break down barriers andunleash the power of your imagination. Join the battle of art and make your mark on the world! #SecretWalls "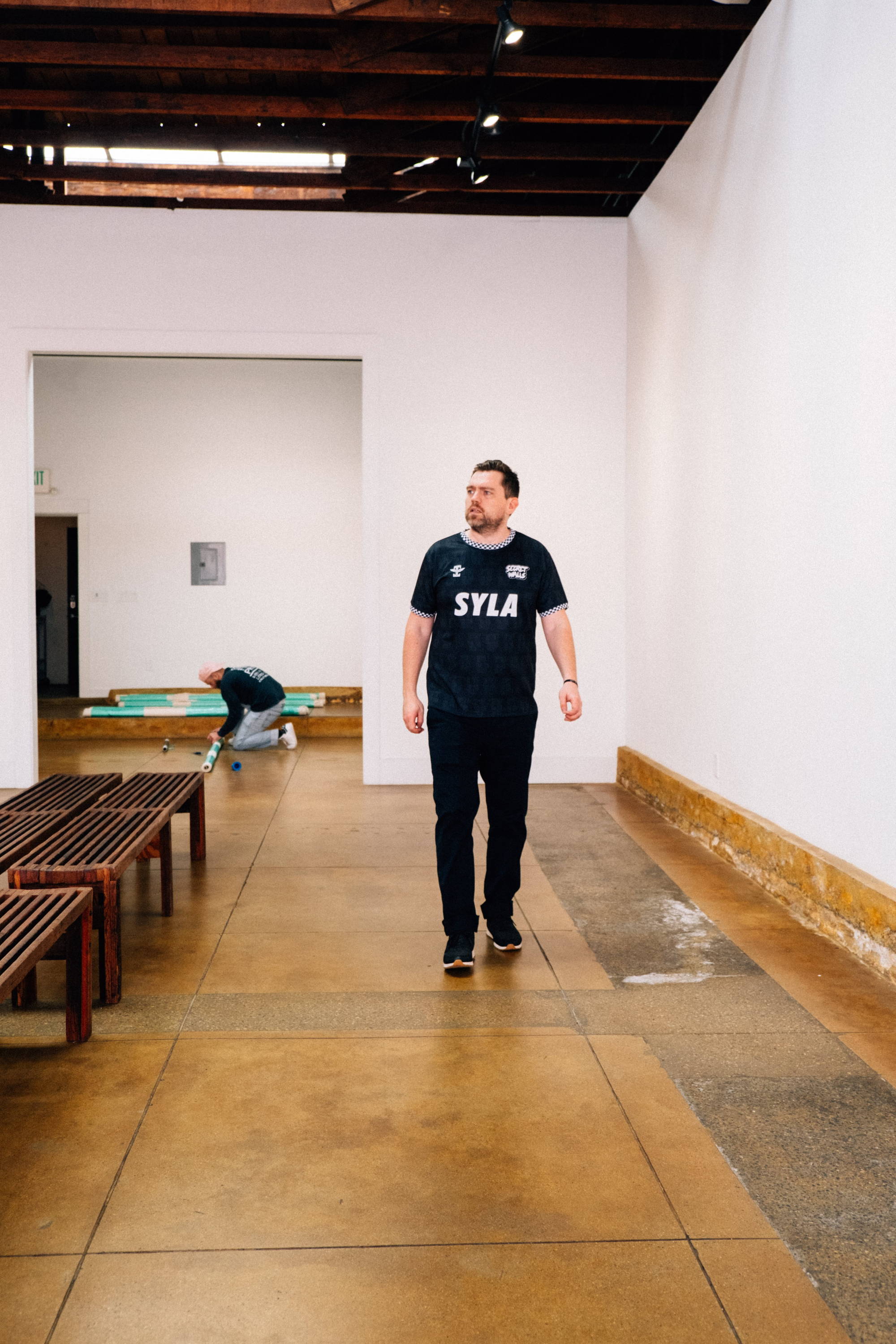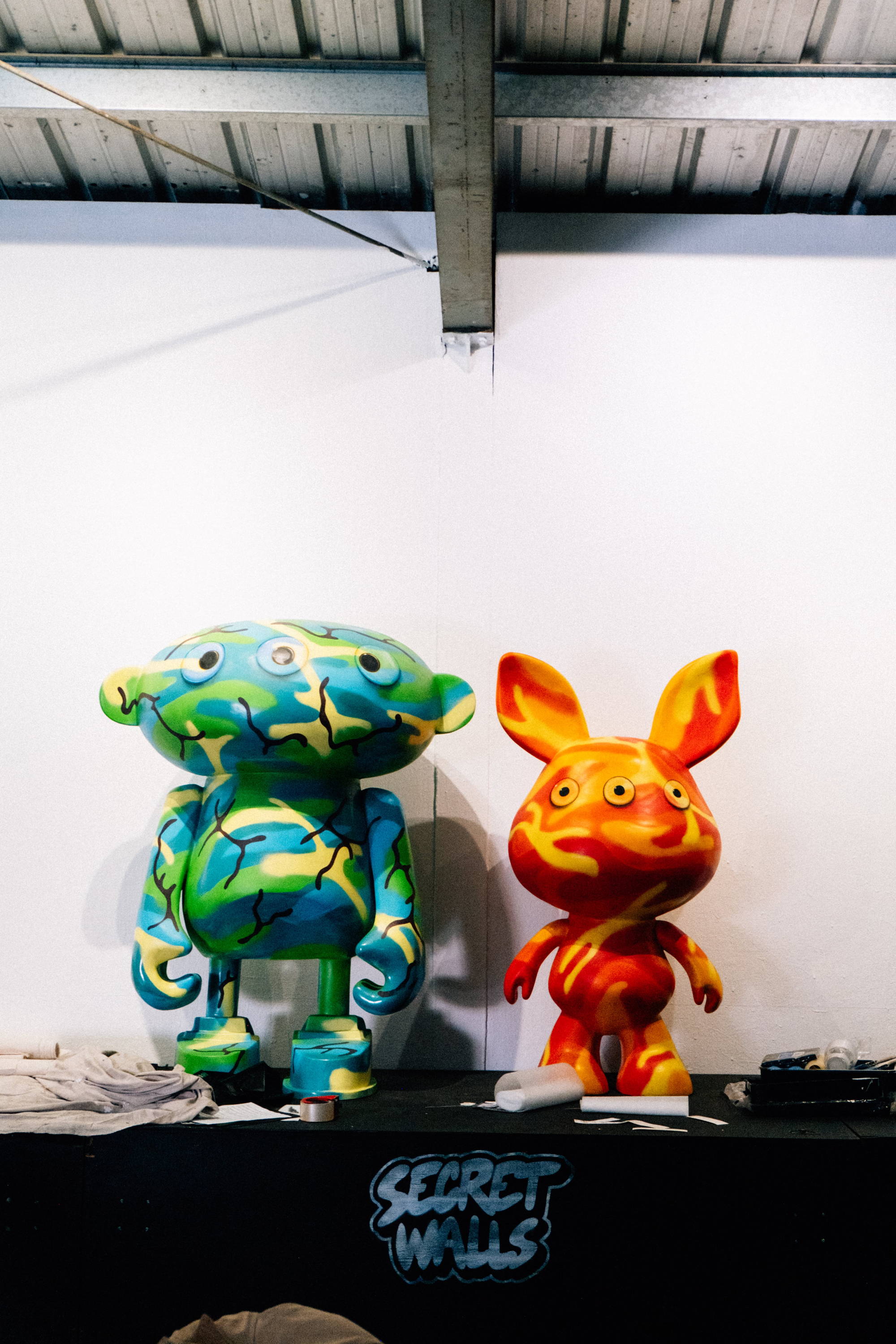 'Support Your Local Artist' has long been the mission of Secret Walls, which artists are inspiring you these days?
There are so many inspiring artists out there right now, it's hard to pick just a few! I'm always impressed by artists who are able to merge different styles and influences to create something new and unique. Some artists that come to mind are Brett Crawford, Matt Gondek, Nina Palomba and Joshua Vides.
Cheeky plug but we just launched our first ever SecretWalls Artist in Residence with Nina Palomba and will be building BIG over the next few months with her…watch this space and lets get Nina hooked up next with some cozy footwear :)
You've got to have a good pair of sneakers in rotation when you're on foot at the latest Secret Walls location, which Claes do you have on rotation these days?
When I'm on the go, I like to keep my sneaker rotation fresh. Lately, I've been rocking the classic Austin and the timeless Joshua models. They're both versatile and comfortable, which is key when you're on your feet all day. Love the recycled and plant based mission.
The event has taken place in over 100 cities around the world, any favorite cities you've toured through or still need to get check off the list?
It's hard to pick a favorite city, as every Secret Walls event is special in its own local way. But some cities that stand out to me are Atlanta (shout to Greg Mike), Detroit, Malmo (shout out to Swedish Dan), and Tokyo. Each of these cities has a unique energy and creative scene, and it's always inspiring to see how artists from different cultures and backgrounds interpret the Secret Walls format.
I know you call LA home now these days but London is also home for you, any local go-to spots you can recommend to our readers?
I split my time between LA and London, so I have a few go-to spots in both cities. In London, I highly recommend checking out the Tate Modern, National Portrait Gallery + East London for some world-class art. For a bite to eat, Dishoom is one of my favorite spots for delicious Indian food. In LA, there are so many great spots to explore, but some of my favorites include the Cheech Museum, the Broad Museum, and LACMA. And for some amazing tacos, you can't go wrong with Guisados or Sonoratown…oh, and Pasta Sisters, which is near our studio in Harvard Heights!
PSA 📣 #SupportYourLocalArtist